AS Series single column design (mm 6500 - mm 18000)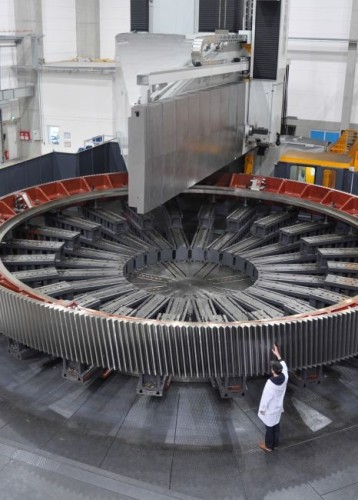 Pietro Carnaghi vertical turning centers model AS are designed in an extremely rigid structure with a single column.
This structure is very functional for large diameter turning operations, having a huge capacity to increase the working diameter.
The AS model structure is composed of one base where the spindle and table gear box are located, one column structure with slideways for movable crossrail and table base (as optional feature it can be translating type).
These elements are assembled to form rigid frame, ensuring maximum stability and strength.
A sophisticated mechanism of the crossrail and column mechanical compensation has been developed in years of experience in different fields: from nuclear parts machining to aerospace components.
Three different types of compensation rods work together in order to minimize geometric deflections, resulting from the movement of large mass units on the machine axis.
In addition machine structures are designed with the finite elements analysis methodology (FEM) and the main frames are subjected to thermal stabilization and treatment processes.
Technical data:
AS 65
T/TM
AS 80
T/TM
AS 100
T/TM
AS 120
T/TM
AS 140
T/TM
AS 160
T/TM
AS 180
T/TM
Max. turning diameter
mm
6500
8000
10000
12000
14000
16000
18000
Table diameter
mm
6000
6500
8000
8000
10000
10000
10000
Standard weight
t
200
200
200
200
350
350
350
Max. allowable weight
t
250
250
350
350
500
500
500
Max. RPM
rpm
60
60
40
40
35
35
35
Turning power
kW
150 - (230) - (300)
Turning height: fixed crossrail
mm
1500
Turning height: movable crossrail
mm
3000 - 3500 - 4000 - 4500 - 5000 - 6000 - 7000 - 8000
Ram section
mm
350 x 350 - (400 x 400) - (500 x 500) - (600 x 600)
Ram stroke Z axis
mm
1500 - (2000) - (2500) - (3000) - (3500) - (4000)
Milling power
kW
40 / 60 / 71 /100
Max. RPM
rpm
2500 - 3000 (6000)
Rapid feeds X-Z-axes
mm./min
15000
10000
PIETRO CARNAGHI WEBSITE DISCLAIMER
COPYRIGHT
PIETRO CARNAGHI (PC) PROPRIETARY INFORMATION
The information contained In this website and in related documents (texts, images, tables etc.) may contain information owned by PC.

This information may not be used, passed on to others or reproduced without the written consent of PC. Unauthorised use is prohibited.
PRIVACY POLICY
Information pursuant to Art. 13 Leg. Dec. no. 196 of 30 June 2003 (Personal data protection law), and Art. 14 of Regulation no. 679/2016 GDPR.
The personal data provided by the User shall be placed in a special computerised database so that it can be used to access the requested services. The data controller is Pietro Carnaghi S.p.A., with registered office in Villa Cortese (MI), Via S. D'Acquisto 7.
Pietro Carnaghi S.p.A., as data controller, informs you that the email address requested at the time of registration and the other personal data provided, will be processed with the consent of the person concerned, in order to provide the information requested by the User.
Pursuant to Art. 7 of Leg. Dec. no. 196 of 30 June 2003, (Personal data protection law) and Art. 17 of Regulation no. 679/2016 GDPR, the User has the right to obtain confirmation of the existence or otherwise of personal data concerning him/her, even if not yet recorded, and the communication of such information in an intelligible form.
Furthermore, the User has the right to obtain information on the following:
• source of personal data;
• purposes and method of processing;
• logic applied in the event of processing carried out with the aid of electronic means;
• identification details of the Data Controller, data supervisors and the representative designated pursuant to Art. 5, paragraph 2 of Leg. Dec. no. 196 of 30/06/2003;
• parties or categories of parties to whom personal data may be communicated or who may have access to such personal data in their capacity as designated representative in the Country's territory, or as managers or persons in charge.

Furthermore, the User has the right to obtain:
• the updating, correction or, if of interest, additions to personal data;
• the cancellation, transformation into anonymous form, or blocking of data processed in violation of law, including those which need not be retained for the purposes for which the data were collected or subsequently processed.
• certification that the parties to whom the data have been transferred or disseminated have been made aware of the operations specified in the above points, also as regards their content, except for the case where notification proves impossible or requires the use of means clearly disproportionate to the right being protected. Finally, the User has the right to object, in whole or in part:
• on legitimate grounds, to the processing of personal data concerning him/her, even if relevant to the purpose of the collection;

CV MANAGEMENT LINK DISCLAIMER
We inform you that the information collected about the interested party shall be managed and stored in compliance with EU Regulation no. 679/2016 GDPR and the Privacy Leg. Dec. 196/03 and subsequent amendments. The data controller is Piero Carnaghi S.p.A with registered office in Villa Cortese (MI), Via S. D'Acquisto 7 and the person in charge of data processing is the Head of the Human Resources Office. Finally, it should be noted that the person concerned in regards to his/her personal data also has, where applicable, the rights referred to in Articles 15-21 GDPR (Right of access, Right of rectification, right to be forgotten, right to restriction of processing, right to data portability, right of objection), by sending an email to [email protected] as well as the right to submit claims to the Guarantor Authority.